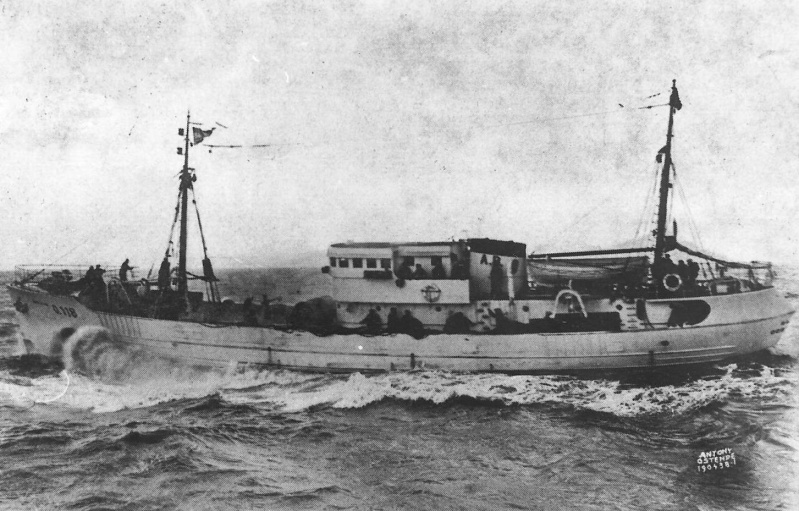 BALTIC
 O 118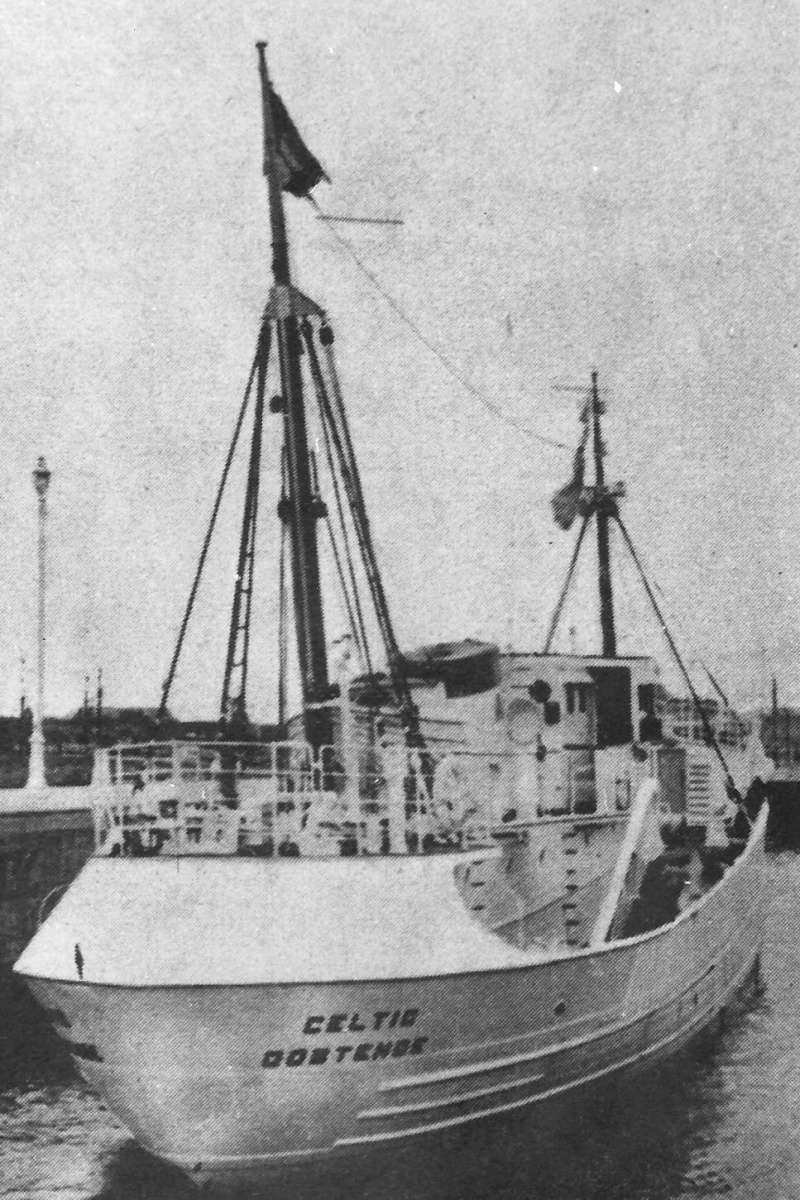 CELTIC
O 119
O 118 BALTIC
218,91 grt blt 1938 J. Boel & Fils, Temse (944)
183 under deck  69,26 n
40,50 x 7 x 4 m  (121.4 x 23.4 x 11.8 ft )
Oil 4 SA 6 cyl 14 3/4"-22" Carels engine 650 HP 130 NHP at 275 rpm by Société d'Electricité et de Mécanique
(Thomson-Houston & Carels), Ghent  12,50-13 kn
cruiser stern
38-39 BALTIC O 118 Rederij Aug. Brunet, Ostend   Be/
8.6.1939 sold to the Finnish Gvt (homeport: Helsingfors) together with CELTIC for a total of 5.500.000 BF
Brought to Finland 14.6.1939 and rebuilt/modified for the Finnish Coast Guard
Renamed TURSAS (names came from gods or spirits of the water in the Finnish mythology)
Taken over by the Navy in the beginning of the Winter war 30.11.1939
Mostly retaining his original crew, he was used as escort vessel, escorting convoys to and from
Swedish waters until the ice conditions becametoo hard in February 1940
During the interwar period 1940, back on patrol duties
During the Continuation war 1941-44 was used again in escort service but was used also in active submarine
hunting in the Gulf of Finland
16.9.1943 TURSAS and UISKO (ex CELTIC) were listening for submarines (engines stopped) when Soviet
torpedobombers surprised the units.
TURSAS got her engines running but UISKO couldn't start fast enough and was hit by torpedo and only one
man was saved.
TURSAS was returned to the Coast Guard after the end of the war and served until 1970's
Was rebuilt in the 1950's
Janes 1955/56: 360 tons displacement
131 1/4 x 23 1/2 x 14 ft
2-20 AA
Coast Guard patrol vessel (Vartioalukset)
Janes 1969/70: 400 tons displacement
1-3 in, 1-40 mm AA, 2-20 mm AA
Flottes de Combat 1970: 360 tW  40 x 7 x 4,40 m
1-20 AA  diesel  1 screw blt Crichton-Vulkan
Ice breaking bow 1952
Major refit 1959 (reconstruction of the stern, new deckhouses, new engine).
Later in the 1970's was used as stationed accomodation vessel
Was sold in the end of the 70's or beginning 80's.
Janes: deleted 1975
Ended up to Sweden and later to Norway where she was scrapped
O 119 CELTIC
yard 946
Oil 4 SA 6 cyl 14 1/2"-22 3/4" Deutz 575 HP by Humboldt-Deutzmotoren AG, Köln-Deutz
38-39 CELTIC O 119 Rederij Aug. Brunet, Ostend Be/
39-43 UISKO Fi/
16.9.1943 lost Soviet torpedobombers
The trawlers BALTIC and CELTIC were purchased by Finnish Government in 1939 and they were handed to the Coast Guard. The Coast Guard (in Finnish Merivartiolaitos) was under the Ministry of Internal Affairs, also not a part of the military forces. In 1945 the Coast Guard became part of Border Guard. During the wars the Coast Guard vessels and personnel were incorporated in the Navy. After the war Coast Guard returned to its normal border watch, customs and search and rescue duty.
The ships arrived in Helsinki 14.6.1939. In July 1939 the ships moved to city of Uusikaupunki for changes. The BALTIC became Tursas and CELTIC became Uisko.
The Uisko was sunk 16.9.1943. A low-flying IL-4 torpedo plane surprised escort vessels Uisko and Tursas north from Keri lighthouse in Gulf of Finland. Uisko was hit with the loss of 18 men, including commander, Lt Sandholm. Only two men survived, cook and steward. The wreck was located by an Estonian search team in 2004 and the bow of the vessel was found to be totally destroyed.
The Tursas returned to Border Guard and was in active service till 1974. Thereafter it was used as an accommodation vessel. In 1985 it was auctioned and sold to Sweden. In Sweden it sailed under name Holmia. In 1996 it was registered to Belize but sailed around Kap Verde. In 1997 it was bought by Norwegian company Polnes A/S and named Polnes. The purpose was to use it for seal hunting. However, the engines were worn out. The ownership changed, the ship became a fishing vessel SF-349-S and it was stricken from vessel lists in 2002.
BALTIC
comme TURSAS fin juin 1942
CELTIC
comme UISKO septembre 1942