The Wreck of RMS Queen Elizabeth – Hong Kong Harbor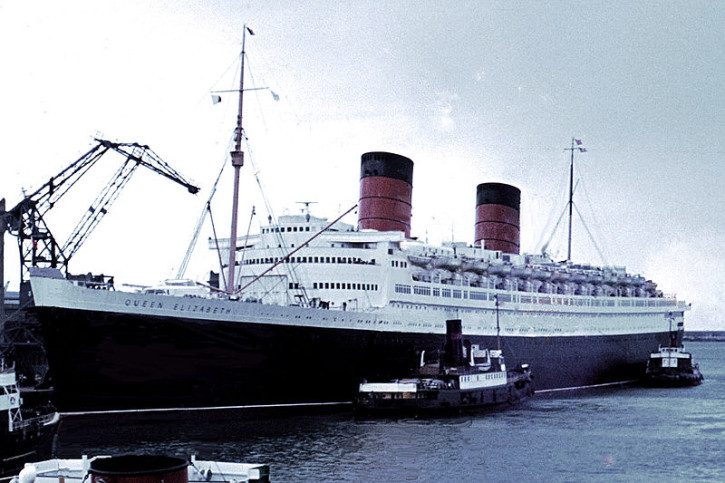 RMS Queen Elizabeth was an ocean liner operated by the Cunard Line. With her running mate Queen Mary, she provided luxury liner service between Southampton, the United Kingdom, and New York City, the United States, via Cherbourg, France. She was also contracted for over twenty years to carry the Royal Mail as the second half of the two ships' weekly express service.
While being constructed, in the mid-1930s by John Brown and Company at Clydebank, Scotland, she was known as Hull 552 but when launched, on 27 September 1938, she was named in honour of Queen Elizabeth, who was then Queen Consort to King George VI and in 1952 became the Queen Mother. With a design that improved upon that of Queen Mary,Queen Elizabeth was a slightly larger ship, the largest passenger liner ever built at that time and for fifty-six years thereafter. She also has the distinction of being the largest-ever riveted ship by gross tonnage. She first entered service in February 1940 as a troopship in World War II, and it was not until October 1946 that she served in her intended role as an ocean liner.
With the decline in the popularity of the transatlantic route, both ships were replaced by Queen Elizabeth 2 in 1969. Queen Mary was retired from service on 9 December 1967, and was sold to the city of Long Beach, California, US. Queen Elizabeth was sold to a succession of buyers, most of whom had adventurous and unsuccessful plans for her. Finally she was sold to a Hong Kong businessmen, Tung Chao Yung, who intended to convert her into a floating university cruise ship. In 1972, while undergoing refurbishment in Hong Kong harbour, she caught fire under mysterious circumstances and was capsized by the water used to fight the fire. In 1973, her wreck was deemed an obstruction, and she was partially scrapped where she lay.
Queen Elizabeth left the port of New York on 13 November 1940 for Singapore to receive her troopship conversion. After two stops to refuel and replenish her stores in Trinidad and Cape Town, she arrived in Singapore's Naval Docks where she was fitted with anti-aircraft guns, and her hull repainted black, although her superstructure remained grey.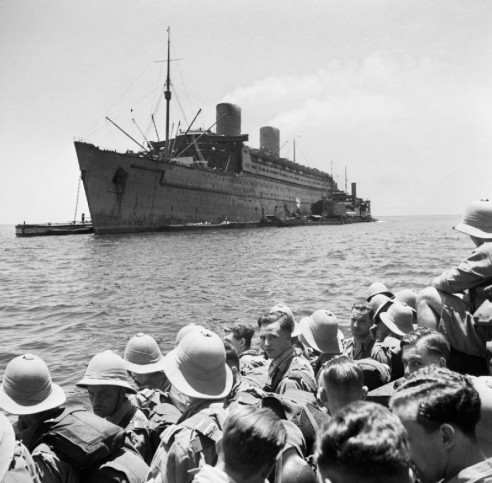 "British troops arrive in the Middle East having been transported by the liner
As a troopship, Queen Elizabeth left Singapore on 11 February, and initially she carried Australian troops to operating theatres in Asia and Africa. After 1942, the two Queens were relocated to the North Atlantic for the transportation of American troops to Europe. Queen Elizabeth and Queen Mary were used as troop transports during the war. Their high speeds allowed them to outrun hazards, foremostly German U-boats, allowing them to typically travel without a convoy. During her war service as a troopship Queen Elizabeth carried more than 750,000 troops, and she also sailed some 500,000 miles (800,000 km). Her captains during this period were the aforementioned John Townley, Ernest Fall, Cyril Gordon Illinsworth, Charles Ford, and James Bisset.
Following the end of World War II, her running mate Queen Mary remained in her wartime role and grey appearance, except for her funnels, which were repainted in the company's colours. For another year she did military service, returning troops and G.I. brides to the United States.
In 1959, the ship made an appearance in the British satirical Eastman Color comedy film The Mouse That Roared starring Peter Sellers and Jean Seberg. While a troupe of invading men from a fictional European country cross the Atlantic to 'war' with the United States on a tow boat, they meet and pass the far larger Queen Elizabeth, and learn that New York City is closed due to an air raid drill. The men on the tow boat respond by loosing arrows at the two officers speaking from near the ocean liner's bridge.
Queen Elizabeth 1966
Inchgreen Drydock Greenock
The ship ran aground on a sandbank off Southampton on 14 April 1947, and was re-floated the following day. On 29 July 1959, she was in a collision with the American cargo ship American Hunter in foggy conditions in New York Harbour and was holed above the waterline.
Together with the Queen Mary, and in competition with SS United States, the Queen Elizabeth dominated the transatlantic passenger trade until their fortunes began to decline with the advent of the faster and more economical jet airliner in the late 1950s. As passenger numbers declined, the Queens became uneconomic to operate in the face of rising fuel and labour cost.
Final years
In 1968, Queen Elizabeth was sold to a group of American businessmen from a company called The Queen Corporation (which was 85% owned by Cunard and 15% by them). The new company intended to operate the ship as a hotel and tourist attraction in Port Everglades, Florida, similar to the use of Queen Mary in Long Beach, California. The Elizabeth, as it was now called, actually opened to tourists before the Queen Mary (which opened in 1971) but it was not to last. The climate of southern Florida was much harder on the Queen Elizabeth than the climate of southern California was on the Queen Mary. Losing money and forced to close after being declared a fire hazard, the ship was sold at auction in 1970 to Hong Kong tycoon C.Y. Tung.